In this blog series, we discuss some of our clients and tell a bit more about our cooperation. We will discuss the client's story, but also look at the project from our own consultant's perspective.   
This week: Transparant Vermogensarchitecten.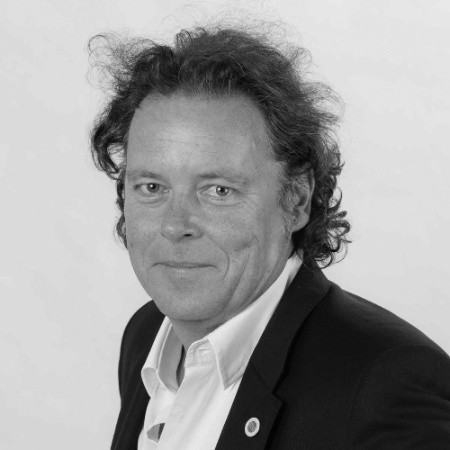 Transparant Vermogensarchitecten advises and assists self-employed people and entrepreneurs in building up and protecting their private assets. The company combines a life insurance offer with credit services, but also acts as a wealth advisor, with its own investment fund. At the head of the company is Paul Crepain, self-employed and passionate about insurance, who has been joined since the beginning of this year by his daughter, Celeste. 
How did the idea for Transparant come to be?
Paul Crepain: From my first day of work in 1986, I fell into the world of insurance. At first I mainly earned my living as a loss adjuster, then I moved on to become an inspector with an insurance company and in 1993 I became an independent insurance broker. I did that until 2010, when - after seventeen years on the job - in a mini-midlife crisis I decided to sell my shares and only occupy myself with what I liked doing: investments and tax products for entrepreneurs.
And that entrepreneurial spirit suited you?
Paul: Entrepreneurship has certainly always been in my blood. My parents were not self-employed, but my brother and sister have both embraced entrepreneurship. I have always had a lot of ideas, but the entrepreneurial spirit has certainly been rekindled recently.
How did you end up at Wodan & Co?
Paul: I knew Wouter from our trajectory at Wolves & Warriors in 2017. We spent some time together in Spain, but didn't really have any contact afterwards. A third entrepreneur in that trajectory - Stijn Caels of Solid Talent - advised me a few months ago to talk to Wouter anyway. I wanted to bring some external know-how into my company, so that our operations could be monitored and steered in the right direction. It clicked immediately between Wouter and me, and the rest is history.
Would you have done this if you had not known Wouter?
That is a good question. Lately, you get overwhelmed by the countless coaches who look you up on LinkedIn or from your own network. After a while, you can no longer see the trees for the forest. Personal references are extremely important, especially in consultancy. A fellow entrepreneur will be more willing to listen than the umpteenth coach. It also has to click, if you want to go through such a process. Wouter can confirm that, he knows immediately whether a project with an entrepreneur is feasible or not. You can feel that click.
What kind of track did Transparant follow at Wodan & Co?
Paul: In the beginning, Wouter was mainly motivating me. He convinced me that what I wanted to put on the market, would actually catch on, and pointed out my own capabilities. "You've always been able to do it commercially", he said, "so why not now?" Step by step, he helped me to rediscover that passion. In addition, our process at Wodan & Co ensured that I no longer bear sole responsibility for Transparant. My daughter Celeste indicated that she was also interested in taxation and investments, and Wouter soon started to involve her in the story. Celeste only needed to hear Wouter's explanation once to be convinced. Since then we have been working together with great motivation.
Shana Egaña Viteri: In that first phase, Wouter mainly tried to draw a plan to map out Paul's ambitions. We asked him the question: "What does Transparant want to achieve in the coming years?" 
The second track, which ended last week, focused more on the operational aspect. In a so-called leadership trajectory, we worked on the leadership qualities of both Paul and Celeste. We wanted to let Celeste's leadership sprout, and give Paul's more meaning. Where sometimes he felt he kept working without any prospects, his daughter was able to give a new meaning to the company.
We wanted to ensure that Paul had breathing space and Celeste could make a big growth spurt, to form a sort of tandem in the short term. We also worked on the scalability of the business, and wanted to market it more commercially without overburdening Paul. The engine needs to be warmed up so that Celeste, when she is settled in, can start accelerating immediately. She is still taking a lot of courses at the moment, but is already helping out in the company. She already knows how to get things done; in the few months that she has been helping out, she has already accomplished a lot. It is only natural that as a father you want to protect your daughter, but we are also there to make it clear that this is no longer necessary. We want to give him peace of mind. Not only should he not worry about his company, but also about his daughter. She is doing so well and quickly, and that promises nothing but good things for the future of Transparant.
Paul: Shana definitely keeps the pressure on, and follows everything up very well. Celeste is getting more and more involved in the business; it started with marketing and administration, but in the meantime she's also getting the hang of technical details. I also notice that the people of Wodan & Co are involved. That makes me feel good as a customer; I'm not just a number or a file. When Shana and Celeste encountered an obstacle, she immediately called in her husband to call on his experience and opinion. You don't see that in other projects. The consultants are involved, they care about us, and that human aspect really makes the difference.
What were the results of the project? How did you experience the cooperation?
Paul: : Although you don't sell an investment in one day, we have already noticed some subtle improvements. We are more active online, and are more in contact with potential customers than before. I also give webinars now, and things like documents - which I hadn't updated in years - have finally been optimised. The cooperation between Celeste and me is also going smoothly. I have more energy again and feel confident about what we offer. A satisfied customer!
Shana: We notice a second breath in Paul, which is wonderful to see. The bond between Celeste and Paul is very strong, but we have also developed a bond with them. We have become a part of the story, and it's great to see their bond getting stronger and stronger and spreading to the company!
We would like to thank Paul and Celeste Crepain of Transparent Asset Management for the smooth cooperation and beautiful experience. We wish Celeste a wonderful growth spurt and are convinced that the future of Transparent looks bright!