In this blog series, we discuss some of our clients and tell a bit more about our cooperation. We will discuss the client's story, but also look at the project from our own consultant's perspective.  
This week: Yuma Labs. 
Yuma Labs is an Antwerp-based start-up that makes circular sunglasses from recycled plastics. We talked to Lenja Doms, one of the faces of the company, about the journey Yuma Labs made with Wodan & Co.  
A special feature of Yuma Labs is the return-to-wear model: each pair of worn sunglasses can be returned to the distributor, where the glasses are put back into the cycle and are reborn as new sunglasses. Yuma Labs mainly develops collections for large fashion brands so that they can sell them in their own shops. 
Mainly B2B, then. Was that a conscious choice?   
Lenja Doms: It certainly was. We started as a B2C company and quickly realised that it's extremely difficult to grow as a B2C lifestyle/fashion brand. With the advertising budget you need, you're already on the level of brands like Zalando and conversion-driven marketing was not for us. We are working on a sustainable, circular story, you can't explain that to a consumer in a few seconds.  
We also have a product that is not compatible with e-commerce. A consumer wants to be able to try on sunglasses. Then you need physical shops, and the retail story was so complex that we didn't want to get into it. So we needed physical shops, but big shops already had their e-commerce and consumers; we just had to think about how to make a beautiful and sustainable product within their business.  
How did the idea for Yuma Labs come about?   
Lenja: The idea itself was born sometime in 2016, and in late 2017 Sebastiaan (de Neubourg) put our first kickstarter online. The first product was then sent out in early 2018. Sebastiaan himself has a very technical background as a consultant in circular economy. As a consultant, he could make a lot of nice plans, but circular economy was - especially back then - something very theoretical. He needed to make a product and make circular economy concrete. This gave rise to the idea of using recycled materials to make a truly iconic product. It is a conversation starter in the direction of circular economy and we also explain to consumers what their role is in returning products and what the added value of this is.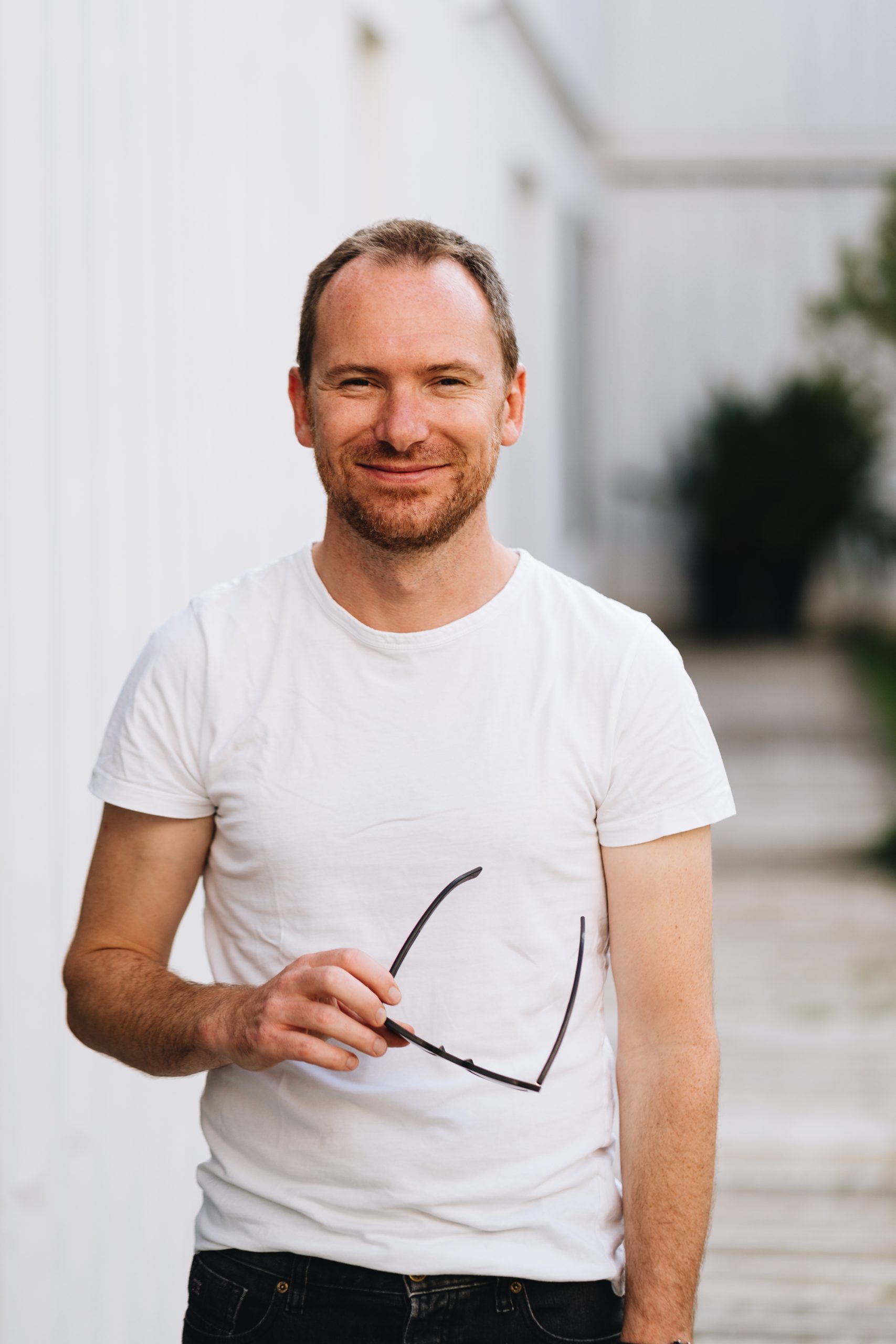 What have been the most important milestones in the evolution of Yuma Labs? 
Lenja: The time around me coming on board Yuma Labs is marked by several milestones. A third partner joined me and our production method shifted from 3D printing to injection moulding. This also meant that we switched from in-house production to collaboration with other eyewear companies and suddenly we made the switch to a B2B model. Whereas with 3D printing we could finish approximately one pair of sunglasses every three to four hours, with injection molding we can do that every three to four minutes.  
In the summer of 2019, we finally landed our first customer: Cos, from the H&M group. Immediately a big customer and, as far as I am concerned, our biggest milestone. A fortnight ago we also hired our first two new employees. The company is growing and other people are getting excited about what we are doing and what is growing. You don't see a higher turnover on a daily basis, but you do notice two new colleagues on the work floor. 
How did Yuma Labs end up at Wodan & Co? 
Lenja: I know Wouter through a previous assignment. In our transition from B2C to B2B, I discovered that being able to spar with people is very valuable. Wouter was always very good at that and when Wodan & Co was born, he immediately suggested that we should do that in a project. We soon decided to work together.  
What kind of track did Yuma Labs follow at Wodan & Co?   
Lenja: We have done two tracks so far. The first was with Wouter alone, when Wodan & Co had no other employees. We did workshops on a monthly basis and worked out our plan of approach towards further growth. We also didn't have any staff or big growth plans at that time - Wouter just played the role of a sounding board and thought together with us about how Yuma Labs could grow as a company.  
The second track was a Leadership Advisory track and consisted of a weekly call and monthly workshop with Shana and Lotte. The latter really made a difference for us, because right from the start you set so many clear targets that you can't get away from. Every week Shana and Lotte ask "And? How was it?", which really forces you to make tangible leaps. As an entrepreneur, you always say that you are going to think strategically, but it is so tempting to constantly work ín the company and not on it. Being given the opportunity to zoom out and review every week or month led to taking big steps.  
As an entrepreneur, it is so tempting to constantly work in the business and not on it.
Shana Egaña Viteri: When I joined at the beginning of the second track, the plan was in place and we felt it was a matter of taking action. In a track like this, we can zoom in every week on what has happened and what still needs to be done. In the past few months, we have discussed everything with Lenja and Sebastiaan in function of the elaborated plan: the recruitments, their commercial actions, the structure and the reporting flows of their business,... They have a lot of knowledge in them, and the biggest challenge in growing a team is to distribute that knowledge in the most sustainable way possible while also being quick about it.  
Have you experienced any tangible results yet?   
Lenja: If you had told me a year ago that we would be here now, I would probably not have believed it. Two new employees and a third on the way, so solid growth. We have also taken steps in the area of internal professionalisation and gained a broader view of our company. We know that we now need to focus on setting up our business model as it stands today and turn it into a well-oiled machine. 
Shana: The calls also ensure that Lenja and Sebastiaan reflect on each topic on a weekly basis. Although you don't always see results immediately, this weekly summary does offer a glimpse of their progress. It is of course inherent to a start-up environment that certain things don't happen as quickly as you hope in the beginning, but when I look back at the general course, I see that there is a solid growth. Has everything fallen into place yet? Maybe not. But the fact that they have hired two new people indicates that it is becoming too much work for Lenja and Sebastiaan; to me, that is the sign of the right growth.  
How did you experience the collaboration?
Lenja: After having gone through two projects, the cooperation with Wodan & Co feels very familiar. If we ask you for something, it is always done properly.. Both Shana and Wouter are very good at following up on promises and plans and maintaining structure in what we discuss. If they said 'it will happen on that day', it actually happened. If they said 'I am going to call you at that time', they did. 
It is also invaluable to be able to work with someone on a long-term basis. If you have a call with a person every six months, it is difficult to talk about challenges in depth. Now we have seen that those regular calls - especially on a weekly basis - provide a very good sounding board between me and my co-partner. Shana and Lotte take care of the right questions and follow-up and we make sure that we can discuss in depth and keep each other more accountable. Finally, a slightly softer approach: I always felt that Wodan & Co is a supporter of what we do, and that is very nice to see. That gives me real satisfaction and motivation to continue to make Yuma Labs a success story.
I always felt that Wodan & Co is a supporter of what we do, and that is very nice to see. That gives me real satisfaction and motivation to continue to make Yuma Labs a success story.
Shana: Lenja and Sebastiaan are very ambitious people and a strong team, which I admire enormously. I always really look forward to our weekly meeting every Thursday morning. Lenja is an express train - so energetic - and Sebastiaan always sits there with a huge smile. They just keep going. Start-up life is not always rosy. There were also stumbling blocks for them, but they were there, every time. That motivated me to have the courage to push extra hard. I never have to worry about asking too much from them, on the contrary. It was a very pleasant collaboration. 
We would like to thank Lenja for the great interview and Yuma Labs for trusting us to give the best of ourselves for not just one, but two projects in order to make Yuma Labs stronger in the market. We will be watching Yuma Labs' growth with great interest!